February 9th, 2010
End of august we came back from a trip to Cyprus where we travelled around with our old but still decent camper which took us around the entire island. Driving around Cyprus we visit the most touristic part but also the more remote and less travelled roads which was quite an adventure.
Untill several years ago there were direct ferries between Cyprus and Greece but unfortunately these have been put out of business. Therefor we had to travel more than 2000 kms through the rural areas of Turkey which was quite a challenge and had 8 different ferry rides to get to Cyprus and back.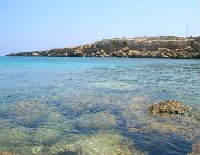 Cape Greco, Greek Cape,..
The island soon turned out to be worth the trip and we felt very welcome. The only difficult part during our trip was to get from Cyprus North to Cyprus South as the borderline was pretty hard to find.
We really wanted to see a different Cyprus and not just visit the touristic attractions so we started to drive to more remote areas. To do this we drove along all the coastal roads with all the great panoramic lookouts and followed the smaller inland routes through the mountains where we spotted immense forests, pristine landscapes and wildlife.
We drove through the Troodos Mountains to visit some of the most stunning monasteries and Byzantine churches that are listed UNESCO World Heritage sights. Some of them were really inaccessible by car and too much of a risk on the small moutain roads but others were well worth the ride. This different side of Cyprus might not offer you the luxury of bathing in the clear warm waters of the sea but will amaze you just as well.
Driving through little mountain villages we met a lot of friendly people, tasted some of the best food on the island and were able to explore Cyprus' artistic side. Of course the military check points were less enjoyable but I guess it's all part of the adventure!