February 20th, 2010
Bucarest is a very modern city with a lot of interesting places to visit like Herastrau Park, Unirii Square and the city centre in general. Herastrau Park is the biggest park in Bucarest and really beautiful. Another nice area to visit would be the smaller Cismigiu Park which isn't located far from the centre.
Other touristic attractions include president Ceaucescu's old Parliament Building, Victoria Square and e the impressive shopping malls filled with boutiques, cinema's and restaurants. Bucarest also has a beautiful biological park, the Gradina Botanica Bucaresti.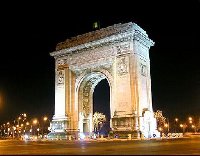 Arc de Triomphe in Bucharest
There are many good restaurants with nice food and great prices but if you prefer fast food there's always a Mc Donalds around. At the mall you will also find plenty of shops and good eateries. Try one of the local Romanian specialties like Sarmalute or Mici.
One of the most busy streets would be the one between Unirii Sqaure and Romana Sqaure.