February 23rd, 2010
Copenhagen, to me would be the perfect result when you cross the two citied of Amsterdam and Venice.
With its characteristic canals, bridges and colourful houses it transmits the same kind of atmosphere which immediately made me feel good. The people in Copenhagen are also really warm and friendly.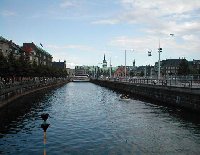 Christianshavns Canal in..
The thing I noticed about this Danish capital was that there is almost no traffic and you can easily walk around town without experiencing the chaos of a frentic city.
On the other hand, you should look out for the cyclists though as people in Denmark, like in Amsterdam, mainly use their bikes to get from one place to another.
They even have a public rental service for bicycles where you can rent a bike for a euro or two and bring it back after using it! You simply park the bicycle in a kind of garage and when you lock it you will get your money back, just like in the supermarket, incredible!
Like the houses and buildings, the hotels are also really pretty and usually of a good standard. I had a great stay in Copenhagen and would definitely like to go back anytime soon.