April 4th, 2010
Uruguay is one of the less popular countries of South America, at least less travelled because in itself also Uruguay deserves a visit.
Most poeple that come to Uruguay travel from Argentina to Brazil and want to add another country to their travel diary, so did I.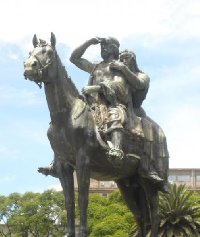 Photos of Montevideo in..
I decided to travel to Uruguay and to visit the capital of Montevideo but to be honest I expected a bit more from it.
In total I planned on spending four days in Montevideo which actually was too much so I left one day earlier to move on to the city of Colonia.
Montevideo is a seaside city and most tourisit hang around on the beaches but you do have to know where to go because some areas are really polluted with garbage and all kinds of dirt. Playa Pocitos has a nice esplanade where a lot of locals come together in the weekends.
Besides the beach there are a view buildings and monuments in the city centre that are worth visiting like the Plaza Independencia and the statue if Jose Artiga who is considered the father Uruguay.
From Montevideo I took a bus to Colonia and within three hours I arrived in this lovely colonial city. I loved Colonia from the start and its pittoresque city centre with all the charming streets and houses is a lot more appealing than the one I saw in Montevideo.