November 2nd, 2011
My best friend Daphne and I went on a crazy beach holiday to Bonaire and spent the best time of our lives between tanning, clubbing and dining out; what an island!
We stayed at the Hamlet Oasis Resort located a few meters from the beach and having our own cottage was incredibly comfortable, especially when we wanted to go out late at night.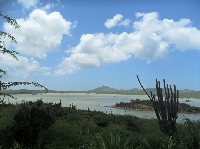 Tourism Bonaire Island
In the morning we had breakfast on our veranda before heading to the beach and in the evening we went out for dinner around Kralendijk town and found out that the seafood on Bonaire isn't just the freshiest you will ever taste it in your life but the prices of all our meals, in different restaurants, were so reasonable too!
We had dinner at lots of nice places and you won't be needing a reservatio on Bonaire because the people are so relaxed that you will always find a great place to eat and enjoy a good cocktail.
Besides enjoying the beaches we rented a car to tour the island and I also would have wanted to go scuba diving but infortunately there was not enough time to do so:( Maybe next time!