August 5th, 2012
I went to Rio in January 2012. The first thing I thought when I arrived in Ipanema´s subway was: Gosh! This is the subway of the paradise!
Since that moment, every experience was breathtaking. I had never imagined that a place like that could exist.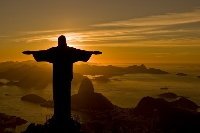 Travel Blog Rio de Janeiro
The pictures aren´t enough to explain the city. Everything is giant, the nature is incredibly exuberant, people are really rich, there are wonderful buildings, mansions and everything is very expensive.
Christ Redeemer and the Sugar Loaf are beyond explanation.