September 22nd, 2011
While Dominical was a real dissapointment because of a bad hostel (The Refuge Hostel I believe..) and a bit of heavy rain fall moving up to Quepos was a pleasent surprise.
I visited the impressive Manuel Antonio National Park which is not only home to beautiful wildlife but also to some of the best beaches in Quepos so a great place to visit!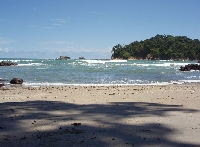 Trip to Quepos
Make sure to continue walking through the jungle at not stop at the turistic first beaches because you will not enjoy this park at all while a few km further you will have the entire beach to yourself!
The city center of Quepos is pretty modern and it is nice that this place combines nature, relaxation and a good internet cafe to blog back home! From Quepos I went to San Jose, the capital of Costa Rica and unfortunately the final stop on this unforgettable trip