September 22nd, 2011
From Cahuita in Costa Rica where my trip had started I travelled to Puerto Jimenez by bus which was a great little ride. Around town you will find some pretty impressive caiman crocs btw.
The reason for heading to Puerto Jimenez was that it is the point of departure for the Corcovado National Park and eventhough the three day jungle trek is quite rough the park is really worth it!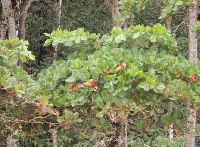 Travel Experience Puerto Jimenez
In Puerto Jimenez I stayed at The Corner Hostel for just one night and to prepare for the jungle hike in direction of Corcovado the next day.
Most pictures below are taken during that three day trip and on my guided walks through Corcovado National Park which wear really amazing and filled with nice views and curious wildlife life wild monkeys, parrots, taipurs and venomous frogs:)
I left Puerto Jimenez and Corcovado NP to travel through to beach-front town of Dominical no too far from the city of Quepos and popular with local and visiting surfers:)