April 7th, 2010
Cordoba is one of the places we visited travelling around Argentina. It's a beautiful city and the place where I did my first skydive!
Skydiving in Cordoba was an amazing exerience eventhough the small airplane freaked me out a little bit when it started its engines, the jump itself was amazing! Together with my instructor, the pilot and a camera man we crowded the plane in four, all geared up and ready to go.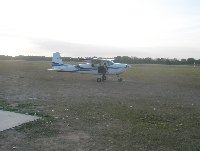 Skydiving, tandem jumps in..
My parachute was attached in the air because I was doing the tandem jump.
I will nevere forget that moment when the instructor openend the door of the plane and I looked down over the smallest Cordoba I had ever seen, a complete adrenaline rush!
A strange mix of fear and excitement soon turned into this overwhelming feeling of joy and as soon as I jumped and floated through the air I wondered was I hadn't done this before!
The skydive was amazing and the crew really friendly and professional, a must do when you're in Cordoba!