April 7th, 2010
Mendoza is the wine capital of Argentina and a great place to look around, rent a bike and explore this beautiful region.
We stayed at a hostel which had a 24h free wine policy which was great! Besides the wine in the hostel we wanted to know a little bit more about the more rural sites of Mendoza.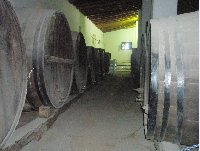 Wineries in Mendoza,..
We rented a pair of bikes and started exploring the wineries of Mendoza.
You'll find a lot of wineries where you can do wine tasting or a guided tour. One winery had its own factory where you could see the initial stages of the wine making process.
Mendoza is a great city to visit when you're travelling from Cordoba to the south of Argentina, in direction of San Carlo de Bariloche or when you heading for Chile as it's located in the west of Argentina.