April 9th, 2010
El Bolson is a town located at about 120 km from Bariloche and known for its hippie market where you can buy all kinds of nice things.
We decided to hitchhike because this is one of the quite areas where it's safe to do so and it gives you another perpective on travelling.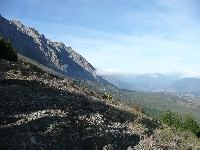 Photos of El Bolson,..
We ended up travelling with a local fisherman, a trucker and a ranger called Steve who took us grocery shopping at the local Do It Yourself Market to pick up some nails.
Like I said hitchhiking gives you a whole different perpective on travelling!
In El Bolson we headed to the market where you can get it all, from fresh smooties to jewlery, leather bags and local art. The people are increbily laid back and there's a very peaceful atmosphere in this town.
We started the day with a good breakfast and headed for the local market which is popular with locals and tourists alike. Not only the market is great fun to check out some of the best local produce but it's also a great place to enjoy the beautiful scenery. There are a lot of beautiful mountains and you can spot pine trees everywhere.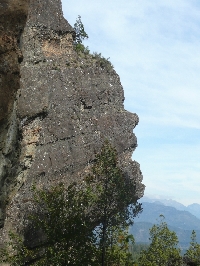 The Indian Head rock..
We also visited El Bosque Tallado, a park where you can some amazing tree carvings. The trees are carved in the shape of animals, faces or other objects. The place had something calming about it but at the same time it had a great mystery and I could imagine this places being once a sacred site where people used to practise all kinds of religious rituals.
El Bosque is located just a few chilometers from El Bolson and from here you have an perfect view of the Valle Nuevo and Lake Puelo. Don't forget to visit the rock formation of Cabeza del Indio, the Indian's Head, near the Azul River Valley viewpoint which is very impressive. If you're patient you will be able to get the perfect photo touching noses with the ancient Indio de El Bolson!