April 17th, 2010
If you're visiting Paraguay one of the first attractions every travel guide will recommend you is to visit the Jesús and Trinidad Jesuit Ruins.
Most people visit these towns on their way from Encarnacion to the Argentinian border and I must say they are really worth a visit, especially on a sunny day when the views are spectacular.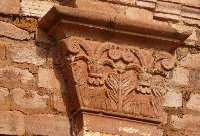 Jesuit colums in Trinidad,..
The Missiones of Jesus and Trinidad are known as the best preserved ones in Latin America and they tell about the rich stories the Jesuits left behind in Paraguay.
You can see some incredibile decorations on the different colums and arches, simply beautiful!
The catholic churches or temples were built by the Jesuits when they came to Paraguay and you will find similar ruins in surrounding countries like Brazil, Bolivia and Argentina.
The two main sites today are the Jesus' Mission and the one of the Trinidad del Parana which is the biggest Jesuit mission and a very well preserved site where you can still take a look on the courtyard, the town's Central Square and look out over the impressive green valley of the site.