April 22nd, 2010
Tortola is the largest island of the British Virgin Islands and the best way to explore the beauty of this island is by boat so we decided to go on a Tortola Island Cruise departing from the island's capital, Road Town.
Tortola has some stunning beaches like Cane Garden Bay and you could see the white sand glistering from a distance. The bays were filled with boats and people enjoying a relaxing day on the beach.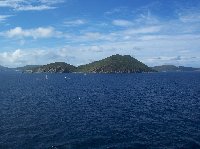 Pictures of the British..
The Cruise ship had all possible comforts so even on board we felt really pampered.
On the top deck you order a drink or sunbath on one of the many deck chairs. Looking out over the Caribbean Sea you could see the island of St. John, which is part of the United States Virgin Islands, in the distance.
But the best part was our visit to the Prospect Reef Port to visit the Dolphin Discovery Centre where we actually got into the water with the dolphins!
Tortola is a beautiful island of the British Virgin Islands and I would recommend it to anybody looking for a relaxing holiday. From Tortola it's possible to visit the surrounding islands of Virgin Gorda, Anegada and Jost Van Dyke. These might be the main islands of the archipelago but you'll find a lot of smaller islands just off the coast.