April 22nd, 2010
From Parham Town, the capital city of the British Virgin Islands we took to the airport on Beef Island. We were able to find a good flight to the U.S. Virgin Islands and after a 6 hour flight, and a stop on the island of St Martin, we arrived at the Cyril E King airport, west of Charlotte Amalie.
We spend two days of sightseeing in and around Charlotte Amelie and visited the Coral World Acquarium in between Coki and Water Bay in the north east of the island.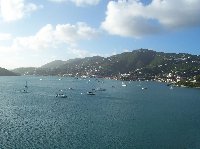 Pictures of the harbour of..
After visiting Coral World we also took the touristic Skyride to Paradise Point which is situated east of Charlotte town and from here you can get an amazing bird's eye-view of the island.
On the third day we left for a cruise around the island of St Thomas and considering the success of our Torola Cruise we couldn't wait to get back on board!
St Thomas is really beautiful and like in the Britsh Virgin Islands the beaches are amazing and the water in the bays crystal clear. The island has become a popular travel destination though the years and most of the bays were filled with boats and sunbathing tourists. The best way to explore the more deserted bays would be by renting a boat, maybe a good idea for our next adventure!