April 26th, 2010
Saint Barthelemy, also known as St. Barths, is a popular travel destination because of it's beautiful caribbean beaches. The island is part of Caribbean Leeward Islands and together with St Marin, Martinique and Guadeloupe part of the French West Indies.
Also in Gustavia, the capital of Saint Barthelemy these French influences are still visible. The city has a beautiful harbour which can be viewed best during a hike up the hills.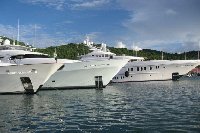 Boats in the harbour of..
Looking down you can see the beautiful colours of the water and the many white sailboats transporting the tourists and locals from one point to another on the island.
A beautiful place to go on the island would be the Bay of St Jean, in the north of St. Barths, where you will find some fine beaches like Nikki Beach and also a wide choice of great restaurants and bars.
On the southern coast you will also find great beaches like Saline Beach, Governour's Beach and Shell Beach, a small cove near the harbor of Gustavia. This is where seemingly every shell on the island ends up.
The best thing to do would be to rent a car and explore the different angles of the island. If you have some extra more days you could also visit the small islands of Île Chevreau and Île Frégate north of the main island.