April 27th, 2010
24 hours is not a long time but long enough to see the most essential sites in London.
You can start by taking the Original London Sightseeing Tour which includes all the must-see sites - Buckingham Palace, Westminster Abbey, Big Ben and the Houses of Parliament, Trafalgar Square, the River Thames, Tower Bridge, the Tower of London, St Paul's Cathedral, Royal Albert Hall, Piccadilly Circus and the British Museum. This double decker bus is a hop-on hop-off bus with live guides, choice of recorded language commentaries and the flexibility to pick and choose what you want to see. The Tour also includes a free 24 hr river cruise and 3 complimentary guided walking tours.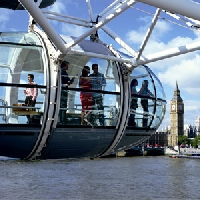 Tourism London
One of highlights of the tour is the Tower of London (entrance ticket not included in the Original Tour). This royal palace dates back to 1078 and houses the famed Crown Jewels used during coronation. Be amazed to see exquisite crowns, orbs and sceptres worn by kings and queens. You have the option of taking the Beefeater Tour being guided by wards who live in the tower and responsible for guarding the Crown Jewels. Nobody know more about the Tower of London and they will share timeless tales passed down from generation to generation.
Another famed attraction is the London Eye. Right along side the River Thames, you are guaranteed the best views of London riding in the tallest observation wheel in Europe. As the most popular tourist attraction in London, it is considered in the same importance as the Tower Bridge and Big Ben.
Spend a lunch in between stops at Cafe in the Crypt located in St Martin in the Fields. Just steps away from Trafalgar Square, the cafe offers great value in a dramatic setting of vaulted ceilings and statuesque pillars.
As the day winds down, you can walk over Hungerford Bridge and have a few pints at the Sherlock Holmes pub (Northumberland Ave). Housing a replica of Holmes' sitting room, visitors can view this exhibition that remained unchanged since the 1950's.
Go to VisitBritainShop.us to buy many of these products listed. You won't have to wait in massive lines and can save a bit of money.