June 1st, 2011
Two weeks ago I went on a short holiday to London and had an incredibile four days there. I don't know what it is but everytime I go to London I am so lucky with the weather!
At the moment I live in The Netherlands and the weather in the two countries is pretty similar but this holiday I had some extra luck because as soon as I landed in London the weather just changed immediately and we had temperatures of 24 degrees!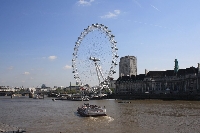 Tours London
Anyway it was a great stay, near Paddington area, and I would recommend London as a travel destination for a weekend break or a short holiday. There's quite a lot to see with great nightlife, good restaurants and of course a ride around the city in London sightseeing bus. Make sure to check out whether there are nice markets in the period you are visiting because these can be a hot spot for both locals as visitors.