March 20th, 2010
London is the most amazing city there is and whenever you're there you'll always find something interesting to see or do.
There is something magica about London, something I've never experienced in other cities and I just feel very at ease when I'm there.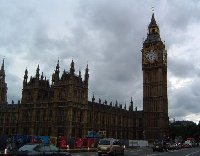 Photo of the Big Ben in..
You hear a lot of negative things about the English but honestly I never had any problems and I think they're actually pretty friendly and open minded to other ideas and experiences.
London is a very attractive metropolis because you'll be able to find everything you need in this city, from historical buildings to great clubs and green parks, markets and shops.
At night there are a lot of nice pubs and bars and the prices are ok. During the day my advice would be to take a stroll to Camden Town and to visit the markets.