September 7th, 2011
Last saturday my wife and I celebrated our anniversary at the lovely Latium restaurant in northern Soho Londen where we had an excellent dinner and a taste of fine italian cuisine.
The service was impeccable and very elegant. We had a look in the open kitchen from our table which was beautifully decorated with flowers.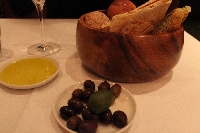 Travel London
We started our meal with a crisp white wine and some cenapes on the house. The selection included olives and mini bruschetta bites with smoked salmon, sauteed mushrooms and italian salami. I still miss the taste of the freshly baked breads served with our canapes ranging from olive bread to grape, nuts and dried fruit breads, beautiful!
We had Buffalo Mozzarella and grilled vegetables as a starter followed by a ricotta and lemon ravioli in a tomato and basil sauce for my wife and a beef tenderloin with for myself.
The deserts were so appealing that we couldn't stop here and ordered a chocolate almond cake and a tiramisu with our espresso coffee. As a surprise we were offered a plate of delicious chocolate truffles. We had an amazing night and a truly delightful culinary experience at Latium in London which I would reccomend to anyone planning a special evening.