October 4th, 2010
Last month my wife and I went on a short holiday to London and stayed there for three days. London was great as always and it has become one of our favourite getaway destinations within Europe.
I always enjoy the cultural mix that London has to offer from all the different kinds of restaurants, lively markets and flamboyant people.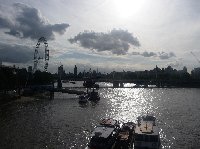 Travel Guide London
We spent a very relaxing three days dining out, exploring the nice shops and of course paying a visit to some of London's most popular attractions like Buckingham Palace, Trafalgar Square and the scenic London Eye.
A great place to head for a nice dinner would be Thai Square, a great restaurant on Trafalgar Square.