May 10th, 2010
For my honeymoon I went to Aruba where me and my wife had an unforgettable three weeks away from home.
We stayed in Oranjestad, the capital of Aruba, where we simply fell in love with the gorgeous city centre with all its colourful houses and decorated facades.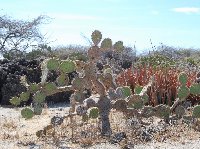 Travel Experience Oranjestad
There are some beautiful buildings which have that pittoresque dutch colonial architecture but the pastel painting gives constructions like the Royal Plaza their true charme.
Besides it's capital Aruba has amazing beaches and you'll find it all from rocky coastlines to white sandy beaches like Eagle Beach near Oranjestad, Baby Beach on the southeast end of the island and Palm Beach also not too far from the capital.
During our stay we rented a jeep to get from one side of the island to another which worked out perfectly. We visited the Alto Vista Chapel in the North of Aruba which is situated on the hills north east of Noord and you can simply drive along the Alto Vista Road which leads to the chapel.
Besides a very unique exterior the Alto Vista Chapel also has a beautiful interior with the blue pastel painting and barroque altar. Other places we visited included the Ayo Rock Formations south east of the chapel, the California Lighthouse in the northern tip of the island and the Arikok National Park with its impressive caves.
Our overall stay was amazing and the all inclusive formula at the Dutch Village Resort made our honeymoon perfect!