May 11th, 2010
From El Salvador and Guatemala we travelled northeast to Belize where we arrived in Belize City, the largest city of Belize and the perfect jump off point for Caye Caulker.
To get to Caye Caulker you can either take the high-speed water taxi or a small airplane which will cost you a bit more but obviously saves you a lot of time.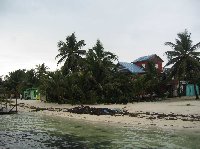 Travel Blog Caye Caulker
We took the water taxi in northeastern direction and arrived at Caye Caulker Village in about half an hour.
We decided to book a room at the Trends Beachfront Hotel because a lot of backpackers told us to go there and we had seen some pictures which looked great. Trends turned out to be a good decision and besides a great hotel it also has a very attentive staff.
They helped us book some snorkeling trips and boat excursions which were really nice, especially the one at the Shark Ray Alley which is situated within the Hol Chan reef where we could see the nurse sharks from so close, amazing!