May 15th, 2010
I love the Caribbean carnival celebrations so when I planned my trip to Trinidad and Tobago I was sure I didn't want to miss the Trinidad Carnival which is celebrated all over the island.
Port of Spain, the capital of the Republic of Trinidad and Tobago, is a good place to spot the amazing costumes and celebrating locals, because this really is the happening of the year!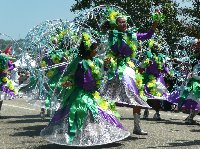 Holiday in Port-of-Spain
The best part for me were all the little kids dressing up like butterflies, heroes and little princesses.
Their parents must have been more than busy creating these amazing outfits and you could see these little party people danced around in true master pieces.
I was happy this year I was there to celebrat Trinidad Carnival 2010 for myself and make some really nice pictures to remember this holiday by.