May 25th, 2010
In June of last year me and my wife went to the Grand Cayman Islands for our honeymoon. After an amazing wedding we were ready to enojoy our three weeks of Grand Cayman Islands all inclusive honeymoon.
We stayed at the 5 star Ritz Carlton resort with many meals and activities provided and not to forget the amazing locations with gorgeous views of the coast and Grand Cayman's turqoise waters.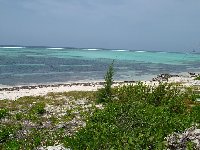 Trip to George Town
Eventhough we had an Cayman Islands all inclusive package deal we also wanted to explore other places on the island and loved our dinner at the Cayman Lighthouse which has been transformed into a popular and very romantic restaurant.
During the day we relaxed as much as possible on dreamy 7 Mile Beach and enjoying the great cocktails and bites of the Ritz Carlton Resort. Weather was perfect during our entire stay and we managed to do a lot of amazing things.
We went to check out the capital of Grand Cayman, George Town, we visited the Turle Farm, relaxing Rum Point and we went swimming with the sting rays in Sting Ray City, possibly the most popular draw card and tourist attraction of the Cayman Islands.