June 2nd, 2010
From Dominica we headed to Martinique where we rented a car to get to the capital, Fort-de-France. Eventhough the southern part of Martinique is better known for its many touristic places we decided to tour around the north.
In Fort-de-France we visited the centre but also the outskirts and smaller places north like Le Carbet and St Pierre.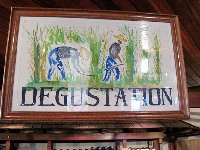 Travel Blog Fort-de-France
Near St Pierre we visited the Depaz Rum Distillery for a great rum tasting on this beautiful property.
Just out of Fort-de-France we visited the gorgeous Montmartre Church which brings a bit of Paris in the heart of the Caribbean and places you in this gorgeous location on the cliffs and surrounded by tropical forest.
We decided to visit the Montmartre Church of Fort-de-France on a Sunday morning so we could actually attend the mass which was really special and the people were very friendly and welcoming.
Other Martinique Tourist Attractions we went to see were the Galleria Commercial Center, the Balata Gardens and the Fort Saint Louis, a French fortress located on the coast with beautiful views of the ocean.