June 4th, 2010
Saint Lucia is another great travel destination in the Caribbean Sea and a favourite with hikers and nature lovers. The island of Saint Lucia is home to the beautiful Pitons Mountains which have become a national landmark and had the island's local beer named after it.
Being a volcanic island Saint Lucia is more mountainous than for example Martinique or other Caribbean islands and the best way to enjoy the island is either by renting a jeep or other 4WD vehicle or by booking tours around the island like the Saint Lucia Jeep Safari into the dense jungle with a visit to the waterfalls and one of the many banana plantations.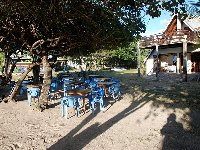 Where to go in Castries
While the Pitons can be found on the west coast of Saint Lucia most jungle trips will take you to the eastern side of the island.
As for the beaches, they are gorgeous all over and we had a lot of fun kite surfing at The Reef Beach Cafe in Vieux Fort and I would definitely recommend these lessons to anyone!