June 8th, 2010
We just came back from the most fantastic sailing trip around Saint Vincent and the Grenadines and I must say that maybe these islands are the best the Caribbean get!
We flew from St Lucia to Kingstown, the capital of Saint Vincent and the Grenadines, where we spend one night before our mega sailing adventure along the Grenadines Islands.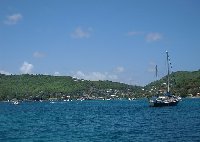 Travel Guide Kingstown
We decided to go on a round trip south covering the islands of Mustique, Mayreau, Tobago Cays, Petit Martinique, Union Island, Canouan and from here we returned to St Vincent with a stop on Bequia on our way up north again.
All islands were amazing but Tobago Cays was really something special. The water was surreal so beautiful and the white sandy beaches were amazing. Here we spend all of our time relaxing in the sun, snorkeling in the crystal clear waters and of course tasting the delicious local cuisine.
Food was good everywhere we went and especially the fish restaurants were some of the best I have ever tasted! The best thing about our Saint Vincent and the Grenadines sailing trip was that our boat had all the comforts we could ask for from a full equipped kitchen to comfy beds and a living room with television.
Most days we did shopping on the island and cooked up a meal on the boat but we also had enough opportunities to explore the restaurants and cooking skills on the different islands.