June 12th, 2010
Grenada Island is the last destination on my Caribbean Sea journey and we spend a very exciting three weeks here. We stayed in St. George's, the capital of Grenada but did several island tours as well.
Of course we did a walking tour of St. George's and visited the Spice Market, the local shops and went to see the major tourist attractions of Grenada's capital city.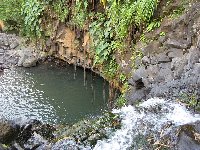 Travel St Georges
We visited the Roman Catholic Cathedral, the Anglican Church and Fort Frederick. From St. George's we went on a great tour to the Annandale Falls and the tropical forest area in the center of the Grenada Island.
This visit was amazing and we almost risked our lives jumping 40 meters down the falls the Grenadian way. My whole body was pumping with adrenaline and I'm pretty sure that jump could have gone worse..but it didn't!
We also did a tour of Grand Etang National Forest and the island's volcanic lake. Of course we had enough relaxing time on the beach as well so it really was a great final Caribbean Island stay packed with all kinds of interesting things to do and experience!