June 18th, 2010
The Mayan ruins in Copan are a popular touristic attraction in Honduras so after our trip to Belize we decided to head straight to Copan which is located in the north of Honduras close to the border with Guatemala.
The archeological site of the Mayan ruins in Copan is home to several ancient temples and ruins of statues and decorated spaces which belonged to the Mayans and played an important role in Copán's dynastic history.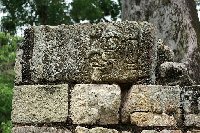 Tours Copan
Walking around in Copan makes you realize how special this place actually is and how an ancient Mayan civilization used to live here and today left their footprints for us to see.
There are many carved and inscripted stones around the Mayan ruins that symbolize the presence of the Maya people in Honduras and in the city they built in Copan. The ruins were discovered in 1570 but not excavated until the 19th century.
Our local guide Jose filled us in on every detail about the Mayan civilization and brought a great atmosphere. I would recommed booking a guided tour to the Mayan ruins of Copan not because you can't reach the site by yourself but because you will learn so much more about the history of Honduras and the importance of the Mayan traditions for the Honduran people.