June 19th, 2010
For our honeymoon my wife and I went on an all inclusive holiday to Barbados for a two weeks holiday in a gorgeous all inclusive resort on the coast near Bridgetown, the capital of Barbados.
Bridgetown is situated in the south west of Barbados and a popular travel destination for cruise ship vacations and honeymoon romantics.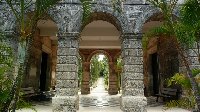 Travel Experience Bridgetown
The town itself is very pittoresque with brightly coloured cottages and boutiques to add to the caribbean feel of the island.
One of the best things to do during a honeymoon vacation in Babados is to relax on the beautiful beaches the island has to offer like Pebbles Beach and Brownes Beach. We also went on a sailing trip around Barbados and when on the island we rented a mino moke to get from Bridgetown to the other angles of the island.
There are many possible vacation package available for Barbados and we had a great choice of all inclusive resorts before departure. The one we ended up with was the
Almond Casuarina Beach Resort in Bridgetown which was like a dream, located near the beach, beautiful rooms and great service.