July 12th, 2010
Paris is the perfect city for a romantic weekend getaway so me and my girlfriend decided to spend one of our weekends doing something different and we booked a weekend getaway to Paris, the city of Love.
Paris is a beautiful place and without a doubt one of Europe's most gorgeous cities. From Holland where we live it's only a short flight to Paris so spending a weekend away from home made it really easy for us and we should have gone to Paris way sooner!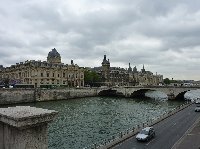 Vacation in Paris
What to say about the tourist attractions in Paris, there are so many! It's a simply impossible to book a holiday here and not go on at least one sightseeing tour.
The Tour de Eiffel, Le Louvre, L'Arc de Triomphe and simply every corner on every street is stunning with views of the typical Paris architecture, sweet boutiques and jummie restaurant. Paris, Je T'aime!