October 11th, 2011
The Thalys is the perfect way to travel to Paris as this train will take you there in such a short time that you will feel that taking the train is a lot more comfortable than booking plane tickets to Paris.
This weekend I travelled to Paris by train to spend a weekend there with my sister and we really enjoyed the trip there. We had first class seats which was even better.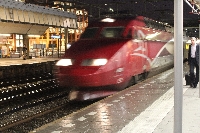 Travel Paris
We had a very nice dinner on board of the Thalys and could use the free Wi-Fi internet connection. Instead of feeling really tired upon arrival in Paris we felt relaxed and found it to be the discovery of the century!
I will never fly to Paris again now that I have experienced how comfortable the Thalys train from Brussels to Paris is. Especially if you're travelling for work this can be the perfect way to travel.
From Gare du Nord we took the RER B train/metro to the city centre of Paris and this was also very easy to find. Within two stops we had moved from the train station to Paris something which would have required at least an hour by shuttle from the airport.