November 3rd, 2011
Last month I went on a three day shopping spree to Paris by train from Amsterdam to Gare du Nord. I love Paris and besides its many great sites like the Louvre or Place de la Sorbonne which are always nice I also enjoy going to Paris to shop.
There are many great boutiques all over Paris but to me nothing can beat La Fayette Gallerie where you can find everything you need and so much more!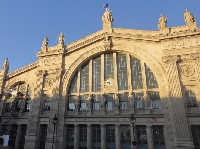 Travel Guide Paris
As soon as you enter La Fayette you're in retail paradise as everything shines and draws you closer, what a place. We always find some great stuff here and besides shopping having lunch at La Fayette in Paris is a must. La Terrasse on the 7th floor has a great and nice meals!
Below I added some pictures of both the shopping gallerie as some other sightseeing pics like the Louvre, the Arc de Triomphe and other street views.