October 11th, 2011
After arriving at Gare du Nord by train me and my sister hopped on the RER B to the Saint Michel station near our hotel. We had arrived in less than a few minutes and the directions at the station were very clear.
We already had bought our RER tickets, or normal tickets which can be used for RER trains, Metro, Bus and Tram within zone 1 and 2 of Paris, on board of the Thalys but you can just as well purchase them upon arrival at the green ticket boxes.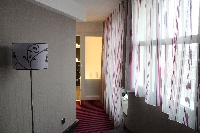 Travel Experience Paris
From Saint Michel it was a minute by foot to our hotel, the Holiday Inn Hotel Notre Dame which was a fabulous hotel with an excellent staff which went out of their way to make our stay the best they could. The staff speaks all kinds of languages from English to Italian and Spanish so don't worry too much if you have trouble speaking French.
The Holiday Inn Hotel Paris is located on Rue Danton and this is the best location in the city! Just between the neighbourhoods of St. Germain and the Latin Quarter it's packed with bars, restaurants, cafe's, brasseries's, cinemas, book stores and so much more. At night there's so much to do and you will have not to worry about making reservations for dinner because like I said there are plenty of places to go and have a great time!
The Holiday Inn Hotel was great and we had a beautiful room with EIffel Tower and Montmartre view, a jacuzzi bathroom and a very very comfy bed!!