October 13th, 2011
Believe it or not but I managed to make a reservation at popular Frenchie Restaurant in Paris. This place has been fully booked forever since it has been nominated the number 1 restaurant in Paris by Tripadvisor.
I made my reservation two months ahead, I guess it was in August that I started calling them. Make sure to call through the internet because it's a question of calling and recalling as soon as you get the voicemail.
Where to go in Paris
Between 15 and 17 you will get lucky and someone will answer the phone but you can forget about leaving a message to dine at this Parisian hotspot.
This star restaurant is petit and counts only 15 tables so when I called we were lucky enough to get one option, the last table, at 19 heures, perfect! Early but perfect for Frenchie:)
The menu was also petit and consisted in 2 appetizers, 2 starters (Poitrine de cochon and Truite fumee, haricot plat, chorizo), 2 mains (Dorade royal, courge spaghetti, noix, sauce au vin de Xeres and Poulet fermier, grenade, racines) and 3 deserts (Stilton, speculoos, poire pochee then Tarte Citron, caramel passion and Pannacotta, avocat, chocolat)
We chose the Poitrine de cochon and the Truite fumee as a starter, two Poulets fermier for main and a Tarte Citron and a Pannacotta to finish. We also had a botlle of still water and a bottle of 2009 Pinot Blanc Auxerrois, Vin d'Alsace. In total we paid 110 plus tip at Frenchie Restaurant.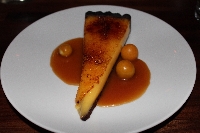 Where to go in Paris
Paris has a very great public transport system but make sure to buy your bus tickets at a post office kind of shop because you can not purchase them on the bus or metro. Buy a carnet of tickets which are 10 regular tickets for 12 euros instead of 1,70 each.
Get out on Rue Réaumur and turn right into Rue des Petites Carreaux, turn right again and you're on Rue du Nil.