October 17th, 2011
You can't visit Paris and not be amazed by the presence of the many designer boutiques and the elegance of the parisian people. One place to visit if you are in for a serious shopping spree would be Avenue Montaigne near the beautiful Champs Elysees.
Here you will be able to find all the important haute couture maisons from Gucci, Fendi, Dolce & Gabbana, Prada and Miu Miu to Chanel, Dior, Louis Vuitton and Yves Saint Laurent.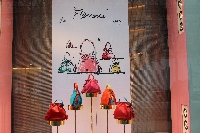 Travel Paris
The large boutique stores take shopping in Paris to the next level and you will be gazing at the window shops just as you will at the price tags! Taking you along Avenue Montaigne all the way to Pont d'Alma and the Eiffel Tower this fancy part of Paris can be a great way to get an update of the current fashion collections and enjoy some amazing people watching!
My personal favourites must have been the Chanel and Dior Boutiques with their stunning designer bags and incredible accessories which really represent what Parisian elegance and class is about.