October 21st, 2011
The best way to explore Paris is by scooter or vespa and browsing excellent tourist information sites like Tripadvisor you will definately come accross Left Bank Scooters which is the perfect company to organize your Paris sightseeing trip with!
Their website is very clear and will offer you the possibility to book your tour online so no hassle with trying to contact them. Online you can choose from different kind a scooter tours like the Paris Highlights Tour and the Paris Day Tour, the one we chose, but also a scooter to Versailles is possibile.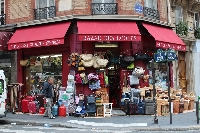 Holiday in Paris
I wasn't sure whether to go with the Day Tour at first because it obviously costs more than the Paris Highlights Tour but then again you do get to see a lot more of the city and it is a full day tour like it promises with pick-up at 10am and drop-off at 17.30pm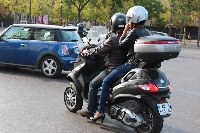 When travelling as a couple you can decide whether you wan't to rent one or two vespa's and we went with one scooter for 2 which costed us 350 euro's in total (300 for 1 vespa and Day I paid the first 50 euro's as a deposit through PayPal which was a great way of doing business since they send you the confirmation email right afterwards:)
For any uncertainties just contact Left Bank Scooters by email and they will respond within a day. I was planning a birthday surprise tour so I had a lot of contact with Adele, one of the crew members and she helped me with information on pick-up and drop-off adresses which brings me to my next point. The best thing about this Paris tour is that they actually pick you up with the vespa at your hotel! Also you can decide to be dropped off elsewhere, like we did and go have a bite or a massage after your exciting day. They just lock your vespa to a fence and pick it up later so you will have nothing to worry about!
We were picked up by Marc and Adam and while Marc took us for a test ride on the vespa to get familiar with driving a scooter in Paris:) we really got excited about the day ahead. We paid the remaing 300 euro's and took care of the remaing paper work with Marc and when that was done Adam explained us what the tour was going to be all about.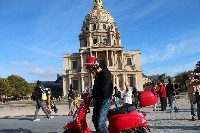 Holiday in Paris
Adam, our guide during our scooter tour was great and knew a lot about the different tourist attractions. He also asked us about where we prefered to go so the tour can be very flexible and there is no rush at all! We visited places like the Eiffel Tower, the Latin Quarter and Sorbonne University, the Saint-Germain neighbourhood, Notre Dame, The Louvre, Montmartre, Les Invalides, Champs Elysees and more.
Riding the vespa in Paris was exciting and not hard at all! It is the perfect way to see this beautiful city as you simply make a list of places where you would like to return the next day without having to walk everywhere a second time because sightseeing by foot can be quite tyring.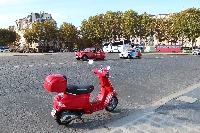 In the afternoon we made a stop to have lunch at Le Petit Cafe, not included in the tour, but our guide asked us first whether we had preferences about where to eat and we really had no idea so we just went with it. Le Petit Cafe was nice and very friendly. After a break we headed to Montmartre and the Notre Dame. Due to the traffic we didn't make it to the Marais quarter but that was fine and we were more than satisfied about the tour, the staff, the quality of the scooters and the overall service and friendlyness of Left Bank Scooters. Recommend!!