July 15th, 2010
In the last semester of my graduation year I had the opportunity to do my final thesis research in Paramaribo, Suriname, which was great news.
I stayed in Paramaribo for a total of 5 weeks and had a great time there. I met a lot of nice people and stayed at the Overbridge Resort which was arranged by the university for me and a fellow student.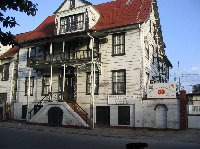 Travel Blog Paramaribo
Paramaribo itself is known for touristic attractions like the Roman Catholic St. Peter and St. Paul Cathedral with its bright yellow colours, the Paramaribo Mosque and the Neveh Shalom Synagogue.
Its curious to see how all these religions come together and coexist whereas in other places in the world this seems impossibile. Also the colinial Waterkant buildings and the statue of Dutch Queen Wilhelmina looking out over the Suriname River are important features of Paramaribo.
Around Paramaribo I went to visit the nearby towns of Marienburg, Commewijne, Domburg and Nieuw Amsterdam where a similar colinial architecture is found.