July 19th, 2010
During my stay in Paramaribo I made a bus trip to Guyana to check out the capital, Georgetown.
Besides the city itself there was one thing in particular that had drawn me to Georgetown and I knew I would find it at the Georgetown's Botanical Gardens.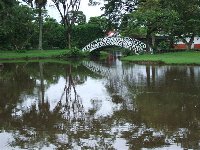 Travel Georgetown
Here, in the Georgetown's Botanical Gardens, you'll be able to observe, meet and even feed real sea cows, also known as matanee's or dugongs, a rare specie that can be found in waters rich of sea weeds and other types of vegetation.
The matanees of Georgetown can be found in a pound inside the Guyana Zoo and are the perfect mammals to experience a first encounter with as they are so calm and non-agressive.
It was amazing to take pictures of the dugongs while they came to shore to soak up the grasses and weeds, could't believe the close up pictures on my way back to the hotel!
Besides the Georgetown's Botanical Gardens and the Guyana Zoo I also went to see some of the major tourist attractions in downtown Georgetown like the St Georges Cathedral, the local market and some other landmarks. It was a nice trip and worth the long bus ride to get there.