July 21st, 2010
This spring I made an Iles du Salut Islands cruise around all the volcanic little islands just north off the French Guiana coast.
Me and my wife had been in French Guiana for work and at the end of our stay all the collegues had organized this boat trip with highlight of the tour, the view of Devil's Island.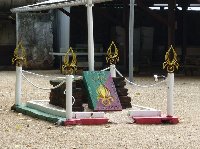 Where to go in Cayenne
Devil's Island was pretty much as how it sounds and everything but a touristic or romantic getaway.
Devil's Island, or Ile du Diable, was used as a prisoners island under Napoleon III until 1952 and known for having one of the toughest regimes in the world.
Considering the fact that this island is the smallest of the Iles du Salut and most fysical reminders of the penal colony have been taken away and brought back to the main land we just passed it by boat.
The other islands, Ile Royale and Ile Saint-Joseph, are touristic sites and can be visited with a guide or without. The remains of the old penal colony are still visible as tree branches have tried to wrap themselves around old monuments and prison walls creating a mystic and almost frightning picture.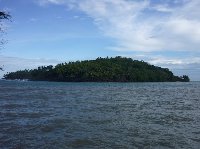 Where to go in Cayenne
On Ile Royale we visited a former island prison and a cemetery. From here our cruised continued to the Ile of Saint-Joseph where we had another tour around a former prison and isolation cell block. Imaging how cruel this place once was isn't difficult as besides bricks and pointy tree branches this place pretty much is and probably was abbandoned.
Our Ile du Salut roundtrip was very interesting and we got to learn and see a lot about the history of French Guiana. Besides its tough image it was also nice to experience this former penal colony half a century later when luckily for us beautiful beaches and dense jungle forests have taken over.