July 22nd, 2010
I was devastated when I heard about the earthquake in Haiti earlier this year and couldn't believe it. It filled my heart with so much sadness and reminded me of my mission trip to Haiti three years before.
The earthquake of 12 January 2010 had destroyed Port-au-Prince, the capital of Haiti and the place where I had so many memories and good friends.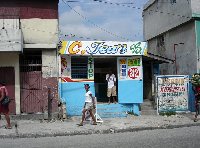 Travel Port-au-Prince
In May of 2007 my parents and I left for a mission trip to Haiti. We had heard about this construction project which needed volunteers to rebuilt and repare houses in Port-au-Prince so after a lot of thinking we signed up and left for Haiti.
The plan was to spend three weeks working on the housing project and another on Kaliko Beach to think over the project and relax a bit before returning home.
We felt so confident about the project and the work we did eventhough it probably would never help resolve Haiti's problems but it was a start. Now, three years later in 2010, everything we worked for is gone and the people of Port-au-Prince are left behind again.
I really hope more people will want to spend their holidays doing something important. Maybe not in Haiti but somewhere in the world because the need is so present and it will leave you with so much more than the perfect holiday pictures.