July 26th, 2010
Moscow is the perfect travel destination for a city trip near the european border as it has a lot of beautiful buildings and places to see.
Everybody knows about the Kremlin or maybe even the red building of the Moscow State Historical Museum but Moscow seems to be filled with great impressive architecture and monuments.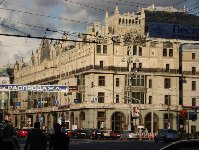 Holiday in Moscow
I have spent three days in Moscow and catching all the touristic sites felt like racing against the clock but also very satisfying to be able to see so many beautiful buildings and sites.
One of my favourite buildings is the St. Basil's Cathedral but then again I also loved the Cathedral of Christ the Saviour with its golden domes or the Novodevichy Convent that looked like a picture from a fairy tale.