October 8th, 2010
After a good flight from Rome me and my wife landed at Moscow Domodedovo Airport and took a taxi to the Izmailovo Hotel where we would be staying during our holiday in Russia.
We often go to Moscow to visit her relatives and usually book a room at the Izmailovo Hotel simply because the location is really good and we have never had a negative experience here.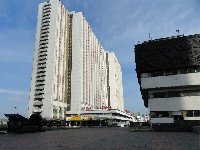 Tourism Moscow
The weather in october was still good and we had a lot of sunshine during our stay.
On the second night in Moscow we decided to go on a boat tour along all of Moscow's major tourist attractions like the statue of Peter the Great, the Cathedral of Christ the Savior and of course the colourful and always impressive Saint Basil's Cathedral.
The boat tour was really nice and having done a boat ride through Amsterdam once I knew it would be a great way to see the city from another perspective and without all the chaos of snapping camera's around you.
The week went by quickly but we had a great stay in Moscow and we will definitely be back very soon!