June 6th, 2011
I always wanted to visit Russia but somehow my boyfriend and I never went there and always went for the more exotic travel destinations, until last April. We had found a tour operator that combined the cities of Moscow and St. Petersburg in one itinerary which made the whole thing more interesting.
It can be hard to tour both Moscow and St. Petersburg because of the distance between the two cities so when I came across the website of Mosturflot cruises and found a 12 nights cruise covering both a few days in Moscow as a stay in St. Petersburg I was sold.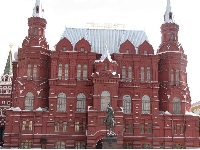 Tourism Moscow
We spent day 1-4 in Moscow, we flew there with AirBerlin which was very good, and visited all major tourist attractions like the Red Square, the St. Basil's Cathedral, the Lenin Mausoleum, Bolshoy Theater and the Olympic Stadium.
From Moscow the cruise ship headed to pittoresque Uglich on the bank of the Volga River where we visited the Cathedral of Transfiguration. After Uglich followed Yaroslavl, Goritsy, Kizhi Island (famous for its open-air Museum of Wooden Architecture) and Verdant River Bank village Mandrogi before arriving in St. Petersburg where we spent day 10-13 of our cruise.
It was a great way to tour Moscow and St Petersburg because we had enough time to explore both cities but got a chance to see some of Russia's country side as well. Our last day included breakfast and a transfer to St. Petersburg Airport.