February 7th, 2010
In may of 2005 I went for a trip to Moscow, the capital of Russia. I was able to make this trip with a scolarship I earned at my university. Russia was a great lot of fun and I would go back anytime!
We travelled in a group of friends and met a lot of nice people during our stay. The Cosmos Hotel was the name of the place we stayed at in Moscow and I remember the guys from the security following us everytime we came back in the hotel to check up on our hotel passes. They found it hard to believe we actually stayed in their hotel..So that was a bit sad but hey, we had a laugh!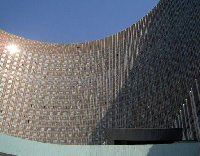 The Cosmos Hotel in Moscow
In the end they trusted us so we could walk in and out like normal tourists, even without our passes:)
Moscow is a beautiful city and everything seems right in its place from the buildings and the monuments to the amazing Kremlin complex. We almost felt like little ants walking around!
The only bad thing about Moscow would be the food..I guess they just eat soups so we ended up eating french fries, chicken and chocolate all week!