July 27th, 2010
Belgrado is the capital city of Serbia and maybe not one of the most popular travel destinations within Europe I thought. Untill I went there earlier this year on a field trip visiting the countries of both Bosnia Herzegovina and Serbia.
Belgrade is the largest city of Serbia and probably the country's biggest touristic drawcard for the nice center, the beautiful position of the city on the Danube river but also its vibrant nightlife.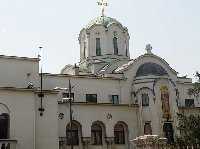 Travel Experience Belgrade
Belgrade offers a great combination of things to do during the day as entertainment at night with a lot of bars, restaurants and clubs for both young people as older couples.
Instead of going dancing at night you could also choose to enjoy yourself a boat ride on the Danube river because the view at night is really something with the Sava Bridge and the entire city skyline lit up.
As for sightseeing we bought a map of Belgrade on our first day so we could easily walk from one attraction to another without getting lost. I really liked the St. Sava Cathedral and think it's a very nice place to see.
We also went to see the Kalemegdan fortress and the Pobednik monument, both very impressive and some of the things to see in Belgrade.