August 11th, 2010
On our way back to Denver where we rented our camper van we made a last stop in Colorado Springs to visit the Garden of the Gods park.
Colorado Springs is only a short ride from Manitou Springs so a stop at Garden of the Gods Park was a logical move. At the entrance of the park we could easily see the cliffs of Pikes Peak Mountain in the distance.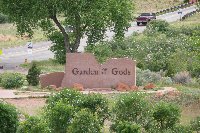 Trip to Colorado Springs
The Garden of the Gods Colorado Springs is also good to visit if you're travelling by camper van as there is a large parking space before you enter the park where you can leave your car and have a sandwich or a drink and the road through the park is really easy.
The park itself was really nice as well with some stunning rock formations in Cathedral Valley. The Balanced Rock is a popular place to take pictures but also rock formations like the Three Graces, Steamboat Rock and the Cathedral Spires are beautiful.
From Colorado Springs we drove north to Denver where we had to say goodbye to our beloved camper van and loyal friend. Our road trip through the central west part of North America had been amazing and I would love to make a similar trip maybe crossing some other parts of America.