August 12th, 2010
From Jerusalem our bus tour continued to Bethlehem, the birth place of Jesus Christ and the famous site of the Church of the Nativity.
The Church of the Nativity is the most important tourist attraction of Bethlehem and annually millions of tourists, pelgrims and other visitors come to Bethlehem to view the place where it all began.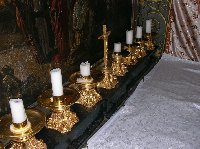 Travel Blog Bethlehem
According to the Holy Bible Jesus was born in Bethlehem after his parents moved from Nazareth to Bethlehem after Emperor August had ordered the people to register themselves in their places of birth.
Since Jesus' father, Joseph, was of Bethlehem he and his wife Mary travelled back there to register their family according to the new laws.
Inside the Church of the Nativity in Bethlehem you will be able to see a bright silver star beneath the altar in the Grotto of the Nativity, a sort of cave which can be found beneath the basilica. This star is believed to be the exact place of birth of the Christ and makes it one of the most imporant places for Jews and Christians all over the world.
Around Christmas the square in front of the Church of the Nativity, also known as Manger Square, is a gathering point for the people from in and around Bethlehem to remember the birth of Jesus.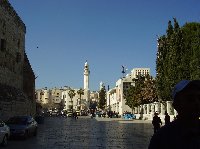 Travel Blog Bethlehem
After our amazing tours in Jerusalem it was nice to make this trip to Bethlehem as I really didn't want to miss a visit to the church. Not all tours include a day in Bethlehem so if you want to visit the Church of the Nativity and the city make sure to check the programme closely!