August 12th, 2010
Travelling up along the Dead Sea from Masada where we had visited the fortifications up along Snake Path we headed to the Ein Gedi Nature Reserve, a popular tourist attraction and oasis in Israel.
The Ein Gedi Nature Reserve is close to the Masada site and the Qumran caves as well. The reserve is known for its oasis in the desert, located west of the Dead Sea, which attracts a lot of flora and fauna like the cuirous hyrax, found only in Africa and countries of the Middle East.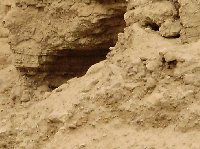 Holiday in Ein Gedi
Besides being a beautiful site to visit the Ein Gedi Nature Reserve also played an important role in the biblic history of Israel, as the caves of Ein Gedi offered a hiding place for David while he tried to escape Saul, the first King of Israel, and an infuriated man for the success of David as a soldier and a man loved by the people more than himself.
The story goes that David becomes the second King of Israel and the caves of En Gedi had become part of that legend. The best thing to do is to visit the Ein Gedi Nature Reserve with a local guide that will be able to tell you the story behind every stone so that you really can understand the value of this place.