November 3rd, 2010
Our church had organized a trip to Israel at the beginning of this year and me and my wife were happy to sign up for it since we had wanted to go on a holiday to Israel for quite some time.
The first place we visited was Tiberias where our guide had arranged for a Lake Galilee boat ride to Capernaum, the fishing village on the shore of the Galilee Sea.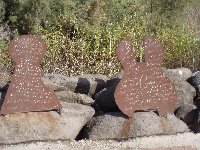 Travel Blog Capernaum
Capernaum was the place where Jesus chose his first desciples and it was also the town he called his home. It was also the synagogue of Capernaum where he taught on Sabbath.
It was so beautiful to visit that synagogue after having only heard speaking and reading about it. The thought that Jesus has stood in this place to teach God's word made us all a bit quiet.
Today tourists can come to see the remains of the synagogue. There are also remains of the ancient Roman city that was built in Capernaum. Me and my wife loved the whole trip from Tiberias to Capernaum, the boat ride included. We returned to our hotel with an feeling of huge satisfaction and felt so privileged to be able to make this journey through Israel.